January 24, 2018

In the News
Did Trump Just Start a Trade War with China? By Daniel Shane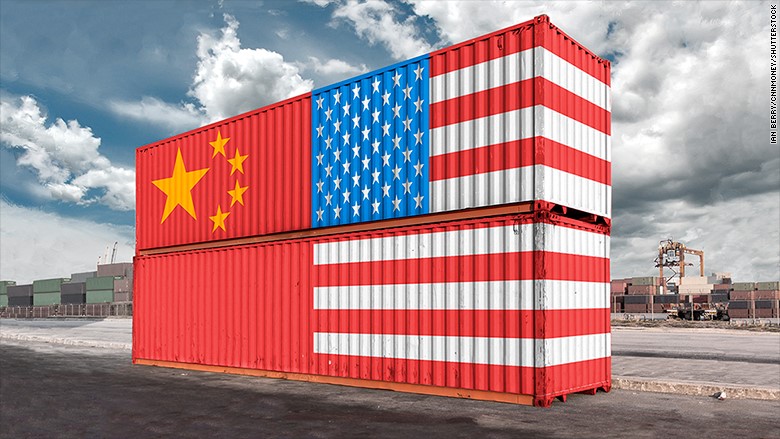 In the News
China wary of India's strategic potential
Manoj Joshi
Asia Times, January 24
"China appears to be coming around to the view that India, despite having a much smaller economy and military, is emerging as a strategic competitor of sorts by aligning itself with Japan and the United States."
"India has a sense of its own self-worth and place in the global scheme of things and accepting Chinese primacy in its own neighborhood is not part of it. And so it is seeking to offset Chinese power through growing proximity to the US and Japan, who have their own reasons for wanting to keep China in check. Ever since Modi has come to power, India has accelerated these efforts."
Did Trump Just Start a Trade War with China?
Daniel Shane
CNN Money, January 23
"President Trump's decision Monday to slap tariffs on imports of solar panels and washing machines risks inflaming tensions with China and other big U.S. trade partners."
"China on Tuesday expressed 'strong dissatisfaction' over the move to impose tariffs of up to 30% on U.S. imports of solar panels, saying it 'aggravates the global trade environment.'"
"But experts say it's too early to determine whether the world's two largest economies are destined for a damaging escalation of trade measures against each other. The U.S. tariffs announced Monday are not, on their own, a huge provocation to China."
China to U.S.: It's your fault we are in the South China Sea
Emily Rauhala
The Washington Post, January 22
"Beijing has a message for the Trump administration: The more ships you send to the contested waters of the South China Sea, the more we will bolster our presence there."
"The warning, delivered in a People's Daily commentary published Monday, came days after the USS Hopper sailed within 12 nautical miles of Scarborough Shoal, a reef China seized from Philippine control in 2012. "A U.S. ship wantonly provoking trouble is reckless," it said."
US Destroyer Conducts Freedom of Navigation Operations Near Scarborough Shoal
Ankit Panda
The Diplomat, January 21
"On January 17, USS Hopper, a U.S. Navy Arleigh Burke-class guided missile destroyer, carried out a freedom of navigation operation (FONOP) within 12 nautical miles of Scarborough Shoal in the South China Sea."
"According to the Chinese Ministry of Foreign Affairs spokesperson Lu Kang, 'The Chinese Navy carried out identification and verification procedures in accordance with law and warned the U.S. vessel to leave.'"
Trump Considers Big 'Fine' Over China Intellectual Property Theft
Reuters Staff
The New York Times, January 18
"President Donald Trump said on Wednesday the United States was considering a big 'fine' as part of a probe into China's alleged theft of intellectual property, the clearest indication yet that his administration will take retaliatory trade action against China."
"In an interview with Reuters, Trump and his economic adviser Gary Cohn said China had forced U.S. companies to transfer their intellectual property to China as a cost of doing business there."
The United States has started a trade investigation into the issue, and Cohn said the United States Trade Representative would be making recommendations about it soon."
US Puts Russia and China at Top of Defence Agenda
Katrina Manson
Financial Times, January 17
"The Pentagon's first new national defence strategy in four years will adopt a more aggressive military stance against China and Russia as its top priority."
"'It tries to put US defences on a more competitive basis given the investments that China and Russia have made,' the second person said, adding the strategy seeks to make the US 'more competitive in those areas where China and Russia have invested and sought to exploit asymmetries that are favourable to them.'"
National Defense Strategy Will Rebuild Dominance, Enhance Deterrence
Jim Garamone
Department of Defense, January 19
"Elbridge A. Colby, deputy assistant secretary of defense for strategy and force development, briefed Pentagon reporters about the unclassified summary of the strategy in advance of Defense Secretary James N. Mattis unveiling the policy, saying 'this is not a strategy of confrontation, but it is strategy that recognizes the reality of competition.'"
"The strategy aims at thwarting Chinese and Russian aggression and use of coercion and intimidation to advance their goals and harm U.S. interests, and specifically focuses on three key theaters: Europe, the Indo-Pacific and the Middle East."
China, Moving to Cut Emissions, Halts Production of 500 Car Models
Hiroko Tabuchi
The New York Times, January 2
"China is suspending the production of more than 500 car models and model versions that do not meet its fuel economy standards, several automakers confirmed Tuesday, the latest move by Beijing to reduce emissions in the world's largest auto market and take the lead in battling climate change."
"The country, which for years prioritized economic growth over environmental protection and now produces more than a quarter of the world's human-caused greenhouse gases, has emerged as an unlikely bastion of climate action after President Trump's rejection of the Paris climate agreement."

Articles and Analysis
NAFTA, China, and the WTO: End of the Beginning, or Beginning of the End?
Edward Alden
Council for Foreign Relations, January 22
"The next few weeks could be the most consequential for global trade since the final negotiations in December of 1993 that led to the creation of the World Trade Organization (WTO)…Two events are central—the critical sixth round of the renegotiations of the North American Free Trade Agreement (NAFTA) with Canada and Mexico, which begins in Montreal on January 23; and the expected announcement of a series of U.S. trade actions targeted at China, which could be unveiled during or prior to President Trump's first State of the Union address on January 30."
"The two issues, NAFTA and China, have a common hook for the Trump administration—both are seen as 'unbalanced' trade relationships that have harmed the economic interests of the United States (a third, the renegotiation of the U.S.-South Korea trade agreement, or KORUS, starts from the same premise). U.S. Trade Representative Robert Lighthizer has been explicit that the goal of the NAFTA talks is to negotiate a 'rebalanced' agreement that will do more to favor the United States. President Trump last week told Chinese President Xi Jinping that the large U.S. trade deficit with China is 'not sustainable.'"
Summary of the 2018 National Defense Strategy of the United States of America
Jim Mattis
Department of Defense, January 19
"Long-term strategic competitions with China and Russia are the principal priorities for the Department, and require both increased and sustained investment, because of the magnitude of the threats they pose to U.S. security and prosperity today, and the potential for those threats to increase in the future."
"China is leveraging military modernization, influence operations, and predatory economics to coerce neighboring countries to reorder the Indo-Pacific region to their advantage. As China continues its economic and military ascendance, asserting power through an all-of-nation long-term strategy, it will continue to pursue a military modernization program that seeks Indo-Pacific regional hegemony in the near-term and displacement of the United States to achieve global preeminence in the future. The most far-reaching objective of this defense strategy is to set the military relationship between our two countries on a path of transparency and non-aggression."
Partnership, Not Dominance, Is the Goal
Hong Xiao
China Daily, January 18
Cui Tiankai, China's ambassador to the US, stated that China seeks global partnerships rather than global dominance at the China General Chamber of Commerce – USA (CGCC) Chinese New Year of the Dog Gala. "Our aim is to build a new type of international relationships and a community of mankind for a shared future. Therefore, China is continuing to seek cooperation with other countries to improve global governance, maintain international order, build peace and stability and promote common development," he said. He emphasizes the mutual benefit in cooperation, and that the China-US relationship is China's most significant and consequential global partnership.
America's Economic Future Hinges on Its Partnership with Asia
Richard Fontaine, Daniel Kliman
National Interest, January 13
"Establishing a new Asia narrative—as sketched out by Trump's inaugural trip to the region and in his new National Security Strategy—remains a work in progress. The administration's emphasis on military strength is relatively clear, and will resonate with U.S. allies and partners in Asia. But the economic elements of its emerging narrative remain inadequate, and its focus on competition with China has merit but does not on its own suffice. America's engagement with Asia should be predicated on more than zero-sum competition and economic nationalism."
"Today, countries across the region are today making bets about the future contours of their geopolitical environment. A positive, holistic American narrative would influence decisions across Asia, and serve U.S. interests in the bargain. And it would counter other narratives—such as an inevitably dominant China, a distracted Washington and a more anarchic region—that will ultimately be less hospitable to U.S. interests."
China's Evolving Nuclear Strategy: Will China Drop "No First Use?"
Nan Li
China Brief, January 12
"China's nuclear forces are undergoing an important transformation into an effective, survivable force. As these new capabilities come online, China's leaders will have to reassess the full scope of their nuclear strategies. While No First Use is likely to remain China's official nuclear policy in the near future, in the meantime, the dynamic evolution of China's nuclear policy, strategy, and capabilities requires careful analysis. Such analysis is particularly necessary if the anti-NFU view begins to have great popular support within the PLA, if China develops a more grim view of its regional security environment, or if China believes that its economy is sufficient to support a more robust nuclear capability along the lines of Russia or the United States."
China is Shaping the Future of Global Tech
Duncan Clark
Financial Times, January 12
One third of the total exhibitors at the Consumer Electronic Show are from China, and this fact sends a clear message that China has moved forward from the position of a component supply and assembler in the global supply chain. The growth and prosperity of Chinese companies, DJI, Tencent, Alibaba, Baidu, etc., has accumulated shaping power over Chinese domestic consumers' habits and lifestyle, such as the widespread mobile payment. Moreover, their expansion in the overseas markets signals that the country is catching up and striving to shape the future of the global tech landscape, constituting formidable capable competitors for US tech titans.
America Still Needs an Asia Policy
Sandy Pho, Michael Kugelman
Woodrow Wilson International Center for Scholars, January 3
"The absence of a U.S. strategy on Asia doesn't just make Washington look clueless about North Korea. It also undermines America's ever-tenuous leadership in the broader region."
"This blow to U.S. leadership does not, however, equate to a net win for Beijing—yet. Our conversations with diplomats and analysts in the region make quite clear that America's Asian partners still prefer a strong U.S. presence in order to balance China's growing influence. They remain willing to wait for Washington to show up and lead. Make no mistake: Washington's treaty allies in Asia have zero interest in jeopardizing the American defense umbrella at such a tumultuous moment in the region, with the North Korea threat and deepening volatility in the South China Sea making for a giant powder keg in the world's most populous region."
"Asian countries also still seek U.S. leadership in the economic sphere—even as China deepens its economic footprint in the region."
 
Past Events
Confronting North Korea's nuclear and missile programs: American and Japanese views of threats and options compared
Event hosted by Brookings Institution, January 8
"On January 8, the Center for 21st Century Security and Intelligence and the Center for East Asia Policy Studies at Brookings convened a panel of experts to discuss the new polling data in addition to considering South Korean public attitudes, as well as to further examine the policy options available to the United States, Japan, South Korea, and the world in addressing the North Korean threat. Panelists included: Shibley Telhami, Anwar Sadat Professor for Peace and Development at the University of Maryland, and nonresident senior fellow at Brookings; Yasushi Kudo, president of The Genron NPO; Richard Bush, senior fellow at Brookings; and Brookings Senior Fellow Michael O'Hanlon, who moderated and also added his perspective."
Audio and transcript of this event is available.
Assessing Innovation in China's Digital Economy
Event hosted by Center for Strategic and International Studies, January 8
"Speakers discussed the innovation ecosystem for leading Chinese internet companies—large and small. How are Chinese companies thinking about the next breakthrough and what are their prospects for global expansion? What is the role of venture capital? What is Beijing's vision for China to "build a national power in cyberspace"? How will the country's cybersecurity law impact the development of the digital economy and innovation? What is the role of Baidu, Alibaba, Tencent, and JD.com (BATJ) in building out China's digital economy and what is their relationship with emerging companies? Does the term "internet company" accurately describe BATJ given their expansion into many more types of sectors?"
Video and audio of this event is available.
 
Upcoming Events
Asia Forecast 2018
Event hosted by Center for Strategic and International Studies, January 24
A World without NAFTA?
Event hosted by Kissinger Institute on China and the United States, January 25
China's Belt and Road Initiative: Five Years Later
Event hosted by US-China Commission, January 25
What's next for Trump's regulatory agenda: A conversation with OIRA Administrator Neomi Rao
Event hosted by Brookings Institution, January 26
Chinese Civil Society in 2018 – What's Ahead?
Event hosted by ChinaFile and the National Committee on U.S.-China Relations, January 29
What to expect from Donald Trump's first State of the Union address
Event hosted by Brookings Institution, January 29
The Trump Doctrine at One Year
Event hosted by Cato Institute, January 30