February 08, 2018

Commentary
What Trump's State of the Union Means for U.S.-China Relations By Sourabh Gupta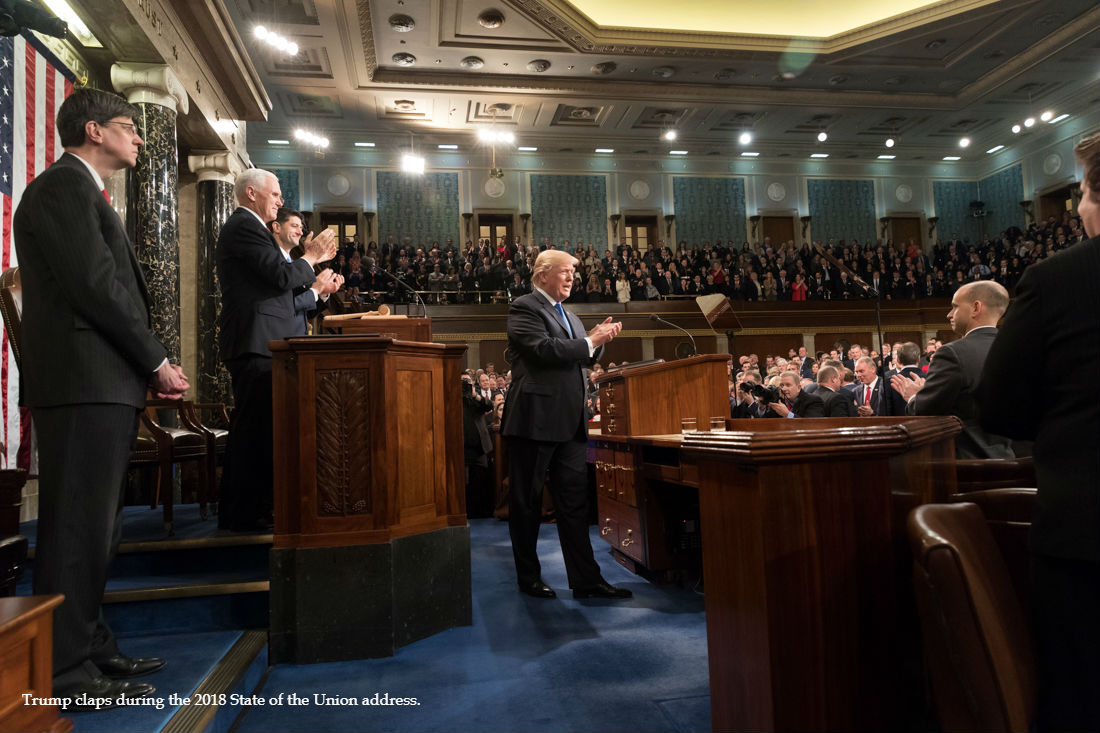 In the News
China developing naval rail gun technology, say experts
Charles Clover
Financial Times, February 7
"Photos taken in a Chinese shipyard of what military experts say appears to be the new weapon come as Beijing pours money into new high-tech weapons aimed at changing the maritime balance of power with the US."
"A two-decade military build-up by Beijing has begun to focus on high-tech weapons to challenge US dominance in the air and sea. China is developing everything from artificial intelligence and aircraft carrier-killer missiles to drone swarms."
Russia and China vie to beat the US in the trillion-dollar race to control the Arctic
Clay Dillow
CNBC, February 6
"China is pushing its way into the Arctic, announcing last month its ambitions to develop a 'Polar Silk Road' through the region as warming global temperatures open up new sea lanes and economic opportunities at the top of the world."
China isn't alone in its Arctic ambitions. Russia, "Finland, the United States and Canada have also proposed significant infrastructure investment within their respective Arctic zones. Norway's state energy company is pursuing exploration activities in the far reaches of the Barents Sea even as its sovereign wealth fund considers divesting from fossil fuels. In January, the Trump administration announced plans to open up much of the U.S. outer continental shelf to offshore drilling, including areas off the north shore of Alaska."
"The notion that the Arctic might evolve into a flashpoint for global tensions remains remote. The region has long proved a place of international cooperation, where Arctic states settle boundary disputes and other conflicts amicably at the negotiating table (as Russia and Norway did as recently as 2010). But as military activity in the region trends upward alongside commercial activity, the chance of accidents, misunderstandings and miscommunications heightens as well."
China smartphone sales down for the first time since 2009
Louise Lucas, Edward White
Financial Times, February 6
"Sales of smartphones in China — the world's biggest market, responsible for roughly one in every three shipments — declined last year for the first time since 2009, slumping 4.9 per cent year on year according to preliminary data from research group IDC."
"China's slowing appetite for new phones is a blow for Apple, Samsung and Huawei, the country's top-selling brands, and has prompted manufacturers along the telecoms groups' vast supply chains to rethink their strategies."
China Opens Inquiry Into U.S. Sorghum as Trade Tensions Worsen
Sui-Lee Wee
New York Times, February 5
"China has opened an anti-dumping and anti-subsidy investigation into sorghum imports from the United States, the latest salvo in an escalating trade dispute between the world's two largest economies."
"The decision, announced by China's Commerce Ministry on Sunday, could result in China imposing steep tariffs on sorghum. It came less than two weeks after the United States said it was imposing tariffs on solar panels and washing machines that were aimed at curbing cheap imports from China and South Korea."
"China, which in recent years has been increasingly assertive about protecting its economic interests, has not been afraid to use tariffs as a tool against the United States. In 2010, it said it would impose tariffs on American poultry after its own anti-dumping investigation. China opened the investigation in 2009, less than two days after former President Barack Obama imposed steep tariffs on Chinese tires."
To Counter Russia, U.S. Signals Nuclear Arms Are Back in a Big Way
David E. Sanger, William J. Broad
New York Times, February 4
"A senior administration official, who would discuss the policy only on the condition of anonymity, said Mr. Trump had been briefed on the new nuclear approach, but was leaving the details to Mr. Mattis and to his national security adviser, Lt. Gen. H. R. McMaster. The president, the official said, was primarily concerned about staying ahead in any nuclear race with Russia, and to a lesser degree with China.
Even Mr. Trump's harshest critics concede that the United States must take steps as Russia and China have invested heavily in modernizing their forces, making them more lethal. The administration's new strategy describes the Russian buildup in detail, documenting how Moscow is making 'multiple upgrades' to its force of strategic bombers, as well as long-range missiles based at sea and on land. Russia is also developing, it adds, 'at least two new intercontinental-range systems,' as well as the autonomous torpedo."
Chinese military paper urges increase in nuclear deterrence capabilities
Reuters Staff
Reuters, January 30
"China must strengthen its nuclear deterrence and counter-strike capabilities to keep pace with the developing nuclear strategies of the United States and Russia, the official paper of the People's Liberation Army (PLA) said on Tuesday."
:A leaked version of the upcoming U.S. nuclear posture review suggests that the United States may develop new nuclear weaponry and could explicitly leave open the possibility of nuclear retaliation for major non-nuclear attacks."
"In the roiling unpredictability of today's world, to upgrade the capability of our country's deterrence strategy, to support our great power position… we must strengthen the reliability and trustworthiness of our nuclear deterrence and nuclear counterstrike capabilities," the commentary in the PLA Daily said.
Why Is China Buying Up Europe's Ports?
Keith Johnson
Foreign Policy, February 2
"A pair of deep-pocketed Chinese behemoths, Cosco Shipping Ports and China Merchants Port Holdings, have gone on a buying binge of late, snapping up cargo terminals in the Indian Ocean, the Mediterranean Sea, and the Atlantic rim. Just last month, Cosco finalized the takeover of the terminal in Zeebrugge, Belgium's second-biggest port, marking the Chinese firm's first bridgehead in northwestern Europe.
"The port deals are one of the clearest manifestations of Beijing's ambitious plans to physically link China to Europe by sea, road, rail, and pipeline. The ports underpin the maritime half of the Belt and Road Initiative, snaking from the South China Sea across the Indian Ocean, through the Suez Canal and into the soft underbelly of Europe."
Chinese start-ups set sights on car industry
Charles Clover, Sherry Fei Ju
Financial Times, February 1
"A handful of China-based fledgling companies have raised hundreds of millions of dollars in venture funding and launched electric vehicle prototypes in the past few months, all aiming to copy Tesla's success in the US."
"'If you want to do well globally today, you have to first be successful in China, and we're already here,' says Daniel Kirchert, a former BMW executive who co-founded Byton in Nanjing, which released a prototype five-seat sport utility vehicle at the Consumer Electronics Show in Las Vegas in January. It plans to start producing in 2019."
At Davos, the Real Star May Have Been China, Not Trump
Keith Bradsher
New York Times, January 28
"'The China One Belt, One Road is going to be the new W.T.O. — like it or not,' said Joe Kaeser, chief executive of Siemens, the German industrial giant, referring to the World Trade Organization."
"Chinese officials used Davos as another opportunity to speak out against protectionism, in what analysts have described as an effort to take advantage of global concerns about the Trump administration and its warnings that it would pursue a more aggressive trade policy."
"'In this, we see a very big difference with the United States,' Foreign Minister Heraldo Muñoz of Chile said, calling China's 'vision of openness and its rejection of protectionism very welcome.'"
Articles and Analysis
Battle for data rages between China and US
Wataru Kodaka, Taisei Hoyama
Nikkei Asian Review, February 4
"In the future there will be no concept of "made in China" or "made in America," because everything will be "made on the internet," according to Jack Ma Yun. The founder of Chinese e-commerce giant Alibaba Group Holding seemed irritated at the World Economic Forum in Davos, Switzerland, in late January, as he made the case against restricting trade."
"His blunt words could very well have been targeted at the Committee on Foreign Investment in the United States, or CFIUS, which had recently blocked Alibaba subsidiary Ant Financial from making a $1.2 billion acquisition of MoneyGram International. Ant announced it was abandoning its plan to buy the U.S. company in early January."
"In today's economy, data is power. It helps companies — and governments — identify everything from consumer tastes to macroeconomic trends, providing a major advantage. One estimate suggests that by 2025, the world will be generating 163 trillion gigabytes of data annually. "
The autocrat's Achilles' heel
Alina Polyakova, Torrey Taussig
Foreign Affairs, February 2
"Great power competition is back, write Alina Polyakova and Torrey Taussig. Russia and China—two great powers with autocrats at their helms—are actively testing the durability of the international order as the West seemingly retreats. There seem to be no effective checks to Putin and Xi's growing ambitions. Both leaders, however, could be making a strategic error."
The education of Kim Jong-un
Jung H. Pak
Brookings Institution, February 1
"What sort of person was Kim Jong-un? Would he even want the burden of being North Korea's leader? And if so, how would he govern and conduct foreign affairs? What would be his approach to the nuclear weapons program that he inherited? Would the elites accept Kim? Or would there be instability, mass defections, a flood of refugees, bloody purges, a military coup?"
Five sparks that could ignite a trade war between China and the US
Catherine Wong
South China Morning Post, January 31
"[Trump] has indicated that his administration is ready to launch trade action against China. Even though a full-blown trade war was unlikely, China had to be ready for the possibility, especially as the US trade deficit with China had grown on Trump's watch."
"Five triggers are possible to set off a trade war: (1) US tariffs or sanctions on Chinese technology, such as the newly imposed 30 percent tariffs on imported solar panels; (2) A 'big fine' for Chinese intellectual property theft from US companies; (3) Tariffs or import restrictions on steel and aluminium, whereas China is the world's biggest steel exporter and produces more than half of the world's aluminium; (4) Further curbs on Chinese investment in the US; and (5) retaliation by China in trade and finance, particularly through cutting its purchase of Boeing aircraft, Apple products and US agricultural imports."
After the State of the Union, Trump's foreign policy is still a mystery
Max Boot
The Washington Post, January 31
"As noted by the Brookings Institution's Tom Wright, the State of the Union reversed the priorities: Trump mentioned 'trade deals, immigrants, terrorism, and North Korea' as primary threats. Great power rivals were barely mentioned. This was Trump's only mention of Russia and China: 'Around the world, we face rogue regimes, terrorist groups, and rivals like China and Russia that challenge our interests, our economy, and our values. In confronting these dangers, we know that weakness is the surest path to conflict, and unmatched power is the surest means of our defense.'"
"In general, it is hard to know where Trump is headed in foreign policy because of the continuing conflict between his isolationist and protectionist impulses, and the more internationalist worldview of his senior advisers. The State of the Union provided no help in explicating the administration's path ahead."
Past Events
Asia Forecast 2018
Event hosted by Center for Strategic and International Studies, January 24
CSIS hosted three panels on forecasts for Asia policies in 2018. Panel 1 focuses on security threats, citing the Sino-Indian border, North Korea, South China Sea, Taiwan, and East China Sea as areas of interest. Panel 2 was on growth, trade, and infrastructure, during which a discussion on how US-China trade relations–and potential trade war–will affect economics in the Asia-Pacific in 2018. Panel 3 was on alignment, leadership, and domestic politics in Asia-Pacific countries; panelists discussed which countries seemed likely or unlikely to "tilt" toward China, that many Asian countries will have elections this year, and what the prospects for democracy in Southeast Asia look to be like.
Watch the full stream here or listen to the audio recording here.
A World without NAFTA?
Event hosted by Kissinger Institute on China and the United States, January 25
The Trump administration's efforts to renegotiate NAFTA continue amidst uncertainty and growing concern whether the parties will be able to conclude talks successfully. Several major issues are still pending resolution, so the NAFTA talks have been extended through the first quarter of 2018, including a negotiating round in Montreal in late January.
To analyze the potential impact of withdrawal on job growth, competitiveness, and geopolitics, the Wilson Center partnered with the Council of the Americas to co-host a discussion with city mayors, former ambassadors and business leaders from the three NAFTA countries.
Watch the full webcast and read selected quotes from the panel here.
China's Belt and Road Initiative: Five Years Later
Event hosted by US-China Commission, January 25
The hearing consisted of three panel talks that analyzed China's implementation of the Belt and Road Initiative (BRI)  respectively from perspectives of the economic rationale, geostrategic and military implications, and regional reactions. China-centric effort that serves China's interests in economic and strategic domains, whereas the benefits came along with difficulties and challenges. Panelists made recommendations that the United States should be more proactive and cooperate closely with its regional allies so as to sustain power and leadership in Indo-Pacific.
Watch the webcast here.
What's next for Trump's regulatory agenda: A conversation with OIRA Administrator Neomi Rao
Event hosted by Brookings Institution, January 26
On January 26, Administrator of the Office of Information and Regulatory Affairs (OIRA) Neomi Rao visited Brookings to deliver remarks on her role at OIRA, the office's achievements in 2017, and the Trump administration's vision, goals, and priorities for regulatory policy moving into 2018. Following her remarks, Rao joined a discussion with Ted Gayer, vice president and director of the Economic Studies program at Brookings. After their discussion, Rao and Gayer took questions from the audience.
Watch the introduction, presentation, and Q&A here.
Chinese Civil Society in 2018 – What's Ahead?
Event hosted by ChinaFile and the National Committee on U.S.-China Relations, January 29
More than a year since two major civil society laws were enacted in China, the environment for domestic and foreign civil society actors is undergoing a major shift. ChinaFile, in collaboration with the National Committee on U.S.-China Relations, is convening a panel to address a number of outstanding questions about what is happening on the ground in China now. Discussion topics will include: What are the key trends and challenges in Chinese civil society? How are domestic and international non-profits faring in the new environment? What are the implications for China-U.S. cooperation? For Chinese foreign and domestic policy? For foreign NGOs hoping to work in China?
Watch the full webcast here.
What to expect from Donald Trump's first State of the Union address
Event hosted by Brookings Institution, January 29
President Trump is scheduled to deliver his first formal State of the Union address to Congress and the nation on Jan. 30. On Jan. 29, Governance Studies at Brookings convened a panel of domestic policy experts to discuss what they hope to hear and what they expect to hear in this pivotal speech. After a year of challenging norms in Washington, will the president deliver a traditional State of the Union or a previously unimaginable tirade?
Panelists explored which post-tax-bill priorities the president is likely to highlight—with an emphasis on how well they align with the priorities of his political base and with those of Congress. Will the president propose policies that advance the well-being of struggling Americans, and if so, do they have any chance of succeeding? Will he rely on divisive campaign trail rhetoric, or demonstrate a willingness to work across the aisle? And most importantly, will his speech have an effect on policy making—and on Americans' lives—in the coming year?
Watch the full panel here.
The Trump Doctrine at One Year
Event hosted by Cato Institute, January 30
A year into President Trump's term, what can we say about the Trump Doctrine? As a candidate, Trump promised dramatic changes for American foreign policy. As president, many would agree he has delivered on that promise. In just one year, Trump withdrew from the Trans-Pacific Partnership trade deal and the Paris climate treaty, launched cruise missiles at Syria for using chemical weapons, increased American arms sales abroad, refused to certify Iran's compliance with the Joint Comprehensive Plan of Action, increased the number of American forces operating in the Middle East and Afghanistan, and rattled sabers on the Korean peninsula. How do these changes square with Trump's call for an "America First" foreign policy? How does Trump's operating style differ from that of previous presidents? Is America safer today than it was a year ago?
Watch the full panel here.
Upcoming Events
The Trump administration's Nuclear Posture Review: Continuity and change
Event hosted by Brookings Institution, February 12
World Economic Update
Event hosted by Council on Foreign Relations, February 21
Nuclear Risks in Northeast Asia
Event hosted by Carnegie Endowment for International Peace, February 27
Commentary
What Trump's State of the Union Means for U.S.-China Relations
By Sourabh Gupta
On January 30th, Donald Trump delivered his first State of the Union address. Following are some of the key takeaways from that address insofar as they concern U.S.-China relations in 2018.
First, Trump appeared more calm and composed during the speech compared to his usual self. This same scripted persona had been on display at Davos a week earlier. If it is in fact the case that Donald Trump is dialing down his more mercurial side and settling down to a more measured style and tone, this is a good thing. It will lend predictability to his decision-making, which should be good for bilateral ties require stable and predictable patterns of interaction and engagement.
Second, Trump referred to China just once directly in his speech. Excessive references to China, as was the case in the recent National Security Strategy, typically tend to signal trouble for the bilateral relationship. It tends to indicate that China is about to be used as a political "whipping boy." That China was mentioned only once in Trump's address suggests that it will not assume this front-and-center role within American domestic politics. This, in turn, opens the way for quiet and more responsible management of the bilateral relationship.
Third, in that one direct reference, Trump labelled China as a 'rival power.' At first blush, it appears hardline, but there is a silver lining. Trump's more belligerent White House staff have preferred to paint China as a 'revisionist power' that is out to undo the liberal international order. For his part, Donald Trump has stuck to the less combative rhetoric of 'rival power' – both in the U.S. National Security Strategy release speech and now in the State of the Union. Indeed, during the release of the National Security Strategy, Trump even went so far as to describe China as a rival power with whom he would "attempt to build a great partnership." Trump's continuing preference for 'rival' over 'revisionist' is perhaps worth embracing. It could have been worse.
Fourth, the most welcome aspect of Trump's State of the Union address pertained to what he did not say as opposed to what he did say – particularly in the area of trade. Most trade policy specialists in Washington were anticipating far worse, expecting Trump to lay out specific trade enforcement measures against China – and in the process trigger a full-blown trade war. None were laid out, and he stuck to his simple and oft-repeated 'fair and reciprocal' trade mantra – much like the case in Davos. One should not assume on this basis that enforcement measures will not eventually be imposed on China. They will down the line. But Trump left enough space with his sparse trade policy comments, to enable him to maintain the bilateral relationship with President Xi Jinping on an even keel, even if some significant trade policy actions against China are implemented in the coming weeks and months.
Fifth, the overall foreign policy impression that Trump left viewers with is that America is focused on its domestic policy challenges. This may or may not be the case, but it does leave the impression that Trump's America does not reflexively seek 'to go abroad in search of monsters to destroy' or transform the world to its image. America's efforts at world transformation over the past two decades has left much misery in its wake and a more homeward-focused America – even one which aims to 'Make America Great Again' – might signify less interventionism and violence abroad.
Finally, there are two major foreign policy areas of concern in his State of the Union address that deserve flagging. His goal of modernizing America's nuclear deterrent and lower the threshold for their use is, both, unnecessary and dangerous. This will upset strategic stability, risks triggering an arms race and will do significant damage the global non-proliferation regime. Worse, his planned approach to the DPRK crisis during 2018, as foreshadowed in the State of the Union, is deeply disappointing and alarming. Trump entered office promising a policy of 'maximum pressure and engagement'. The engagement element appears to be non-existent. At a time when the shoots of détente are visible in Inter-Korean relations, this is a particularly unsatisfactory approach. The United States should be encouraging diplomacy and toning down its belligerent rhetoric, not dialing it up. America should explore avenues to support its South Korean partner – – ideally by initiating bilateral, private, special interlocutor-level conversations with senior regime types in Pyongyang. At this time, it appears that Trump is determined to press forward in the opposite direction, which will further damage the already-fraught U.S.-DPRK relationship, heap pressure on U.S.-China relations and undercut President Moon Jae-in's outreach to Pyongyang. Military tensions and brinkmanship on the Korean Peninsula will regrettably return once the Olympics and Paralympics conclude by mid-March.    
Overall, Donald Trump's State of the Union speech leaves the impression – perhaps optimistically – that a floor has been lain beneath which the U.S.-China bilateral relationship in 2018 will not sink. Just three weeks prior most analysts in Washington anticipated the opposite, that 2018 would be a year of reckoning in U.S.-China relations. With luck, this harsh outcome might be averted or, at minimum, toned down to manageable proportions.
Sourabh Gupta is a Senior Fellow at the Institute for China-America Studies (ICAS) in Washington, D.C.